Spotlight
Hud Announces $2.7 Billion Funding Opportunity to Help People Experiencing Homelessness
The U.S. Department of Housing and Urban Development (HUD) is making $2.656 billion in FY 2021 Continuum of Care Program (CoC) competitive funding available to homeless services organizations across the country for supportive services and housing programs for people experiencing homelessness. Read HUD's Notice of Funding Opportunity (NOFO).
Contact Taylor Donovan, ACEH Director of Operations with any questions about NOFO or for information on applying in the Anchorage area: tdonovan@aceh.org
Project applications for the CoC NOFO will be released in September 2021 and will be due in October 2021. The Anchorage Collaborative Application for the FY 2021 CoC Program NOFO is due to HUD on November 16, 2021. Click here for additional information.
LOCAL HOUSING & HOMELESSNESS NEWS & UPDATES
Homeless Prevention & Response System Advisory Council Monthly Meeting
The Homeless Prevention & Response System Advisory Council will meet during this 1-hour period to discuss relevant Anchorage Continuum of Care initiatives and current events.
Agenda to include a special ACEH Presentation on the HUD Notice of Funding Available (NOFA) by Taylor Donovan, ACEH Director of Operations
This meeting will also be recorded for meeting minutes and record-keeping purposes.
 
8/26/2021 4:00 PM – 5:00 PM
Click to Join: Zoom Video Conference (please be sure to update your name when you join)
Alaska Housing
Alaska Housing Rent Relief Program Update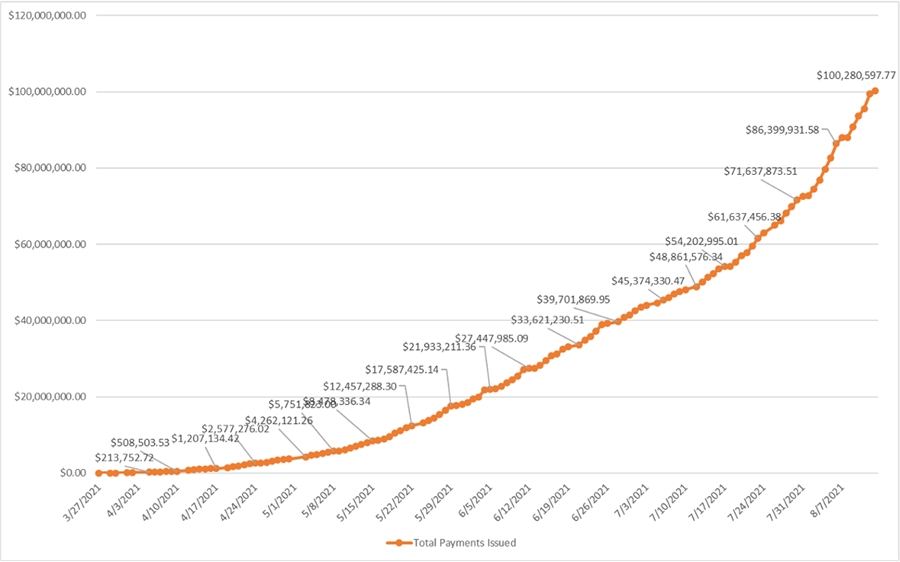 As of August 13th, the program has made payments to 18,087 applications, totaling $100,280,598 paid to landlords and utilities, and served 46,708 Alaskans. 
Learn About Current Program Status
50 Years of Opening Doors for Alaskans…
"This success is a direct result of the dedication of our 
Our work over the last 50 years prepared us to meet today's challenges and tomorrow's. To recognize those who came before us and to tell that story, we have created an interactive timeline with important dates in our history — and Alaska's history. Travel through time with us." – Bryan Butcher, AHFC CEO/Executive Director
ACEH Outreach Updates
The next mobile vaccination clinic with Visit Healthcare is this Friday, August 27th at the Web from 1:00pm-2:00pm. Outreach staff will be assisting on the ground as vaccines are administered.
 
Reminder: The next Outreach Meeting is scheduled for Wednesday, September 8th at 10 AM.
Please reach out with any questions or comments: jrutz@aceh.org 907-312-9478
NATIONAL HOUSING & HOMELESSNESS NEWS & UPDATES
National Alliance to End Homelessness (NAEH)
NEAH Breakdown of the Notice of Funding Opportunity (NOFO)
The U.S. Department of Housing and Urban Development (HUD) recently released the NOFO. for the Continuum of Care (CoC) program. For people who work on homelessness, this release has come to mark the beginning of an annual period of intense work, with each community trying to get the best possible share of the resources from the federal government's largest homelessness program.
In a new blog post, Alliance VP of Programs and Policy, Steve Berg, outlines what's new in this year's application, and the opportunities to make meaningful progress on ending homelessness by crafting a strategic and competitive application.
National Council of Nonprofits Survey
Help communities by sharing the pandemic's impact on your nonprofit
Every nonprofit has felt the pandemic's effects differently, and each has had a front-row view of how the pandemic has affected local communities. The National Council of Nonprofits are partnering with the Federal Reserve on a survey to create a comprehensive picture of the effects on nonprofits and the communities we serve, both nationwide and in individual states. The results will help nonprofits inform policymakers at every level of government about the challenges we all faced this past year and can help nonprofits advocate for further relief. Your views are important, but time is running out; the Fed has extended the survey deadline until this Friday, August 27. Please take 15 minutes to complete the survey today to help inform equitable recovery programs and policies.
U.S. Interagency Council on Homelessness (USICH)
Help USICH Envision the Next Federal Strategic Plan to Prevent and End Homelessness
The USICH is in the process of creating a new Federal Strategic Plan to Prevent and End Homelessness, and want your input.
 
Regardless of the path the plan ultimately takes, it will be guided by equity and evidence. USICH is dedicated to addressing deep-rooted racial inequities and to advancing proven practices like Housing First. 
 
Comments can be submitted online at usich.gov/fsp.
USICH launched the first Federal Strategic Plan to Prevent and End Homelessness in 2010. Since then, homelessness dropped by 9% – nearly 50% among veterans and 30% among families – and 82 communities and 3 states ended veteran or chronic homelessness.
 
Unfortunately, much of that progress stalled in the last few years. 
USICH invites feedback from anyone, particularly people who have experienced or are currently experiencing homelessness; people who serve the LGBT, BIPOC, or veteran communities; and people whose work involves the justice system.
Comments can be submitted online at usich.gov/fsp.
 
View full article here
Case Conferencing and Coordinated Entry (CE) Training
If you have any questions about these meetings or are interested in coordinated entry access point training for you or your team, please contact Mac Lyons at: mlyons@aceh.org
What is CE? CE is a triage process to connect individuals experiencing homelessness to necessary resources. It is a federally mandated program that recognizes communities rarely have enough resources. There are three main goals of CE: prioritize the most vulnerable, streamline the experience for providers and unsheltered people, and provide data to inform decisions regarding the structure of and need for services.

Bring Impact to Your Inbox
Receive emails with inspiring stories from the Anchorage community, news and information about housing and homelessness, and tangible ways you can get involved and help people in need.
Each year ACEH coordinates the submission of project and collaborative applications to fund organizational and partner programs through a competitive grant process.
read more